Leading on from my offer to "design' houses for pinsters in my very limited spare time I am glad to say we have our first iterations.
1 evening of sketching in front of the TV pen and paper.
2 evenings using sketchup
I created the following very basic conceptual design for the user "earthship" wihtout having much of a clue to the exact nature of the site.
Hopefully it will inspire and bring forth ideas on how to utilise a small plot.
Its a tad bigger than the spec, I think it runs about 40sq m. btu I am not sure right now. Itsn ot finished becasue its a concept!
Its enough for general tastes and considerations.
I don't for one minute think my proportions are bang on and the stairs landing is not resolved from a sketchup 3D model point of view but the overall concept layout is there to consider.
This is my first successful house in sketchup.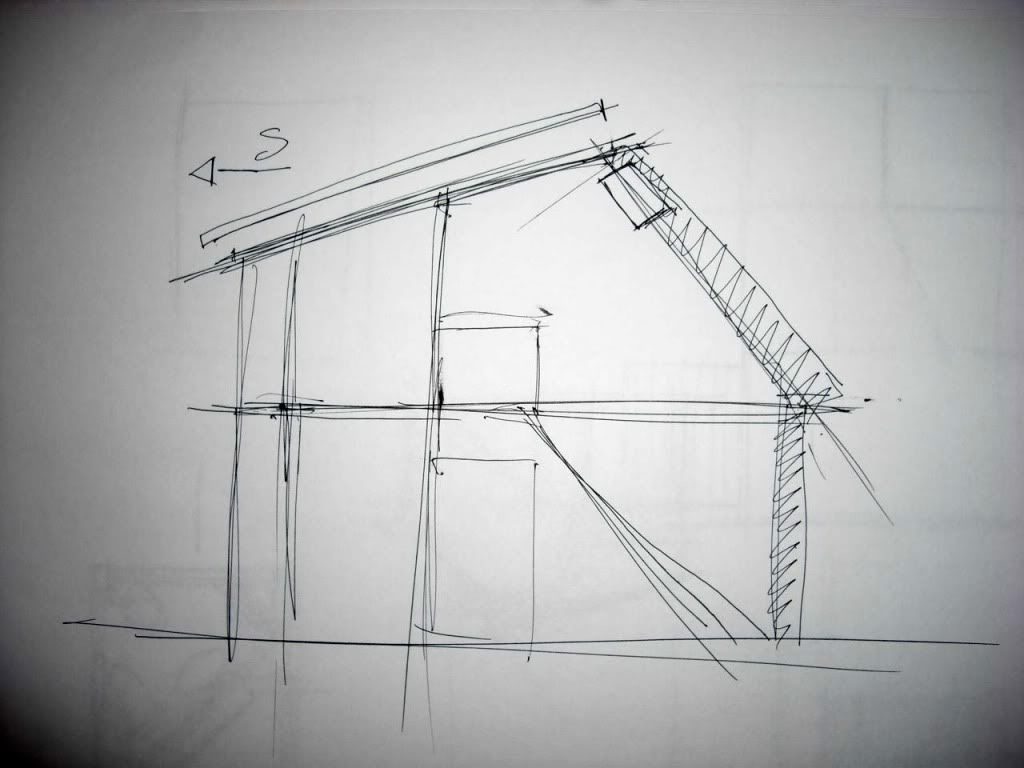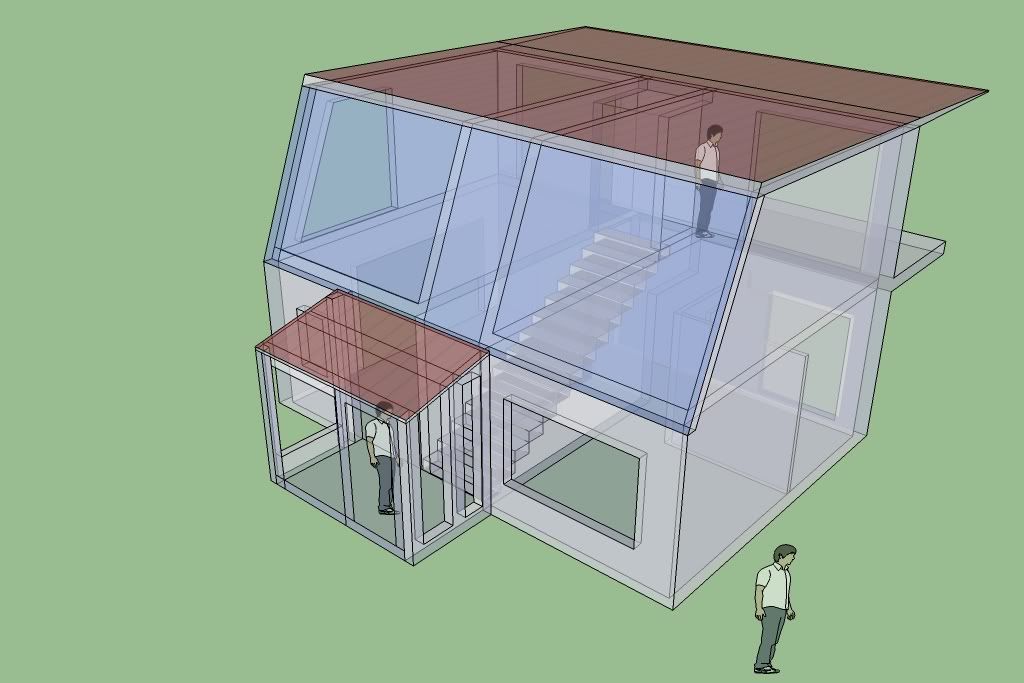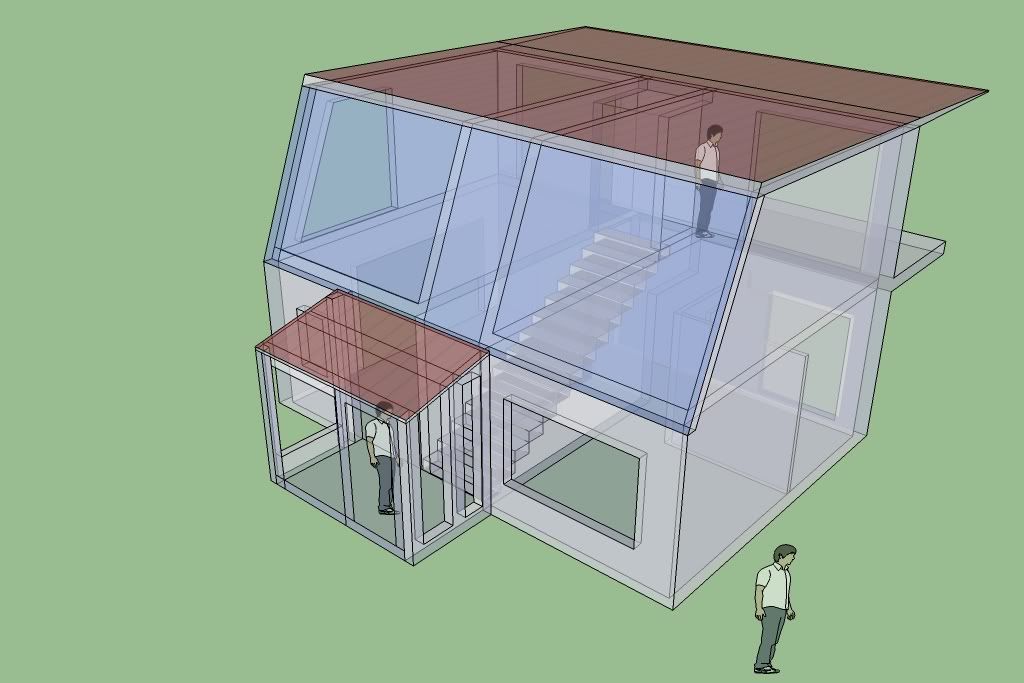 Full imagery album here
I 'll add more detail later about why things are the way they are.
Note" the glass plate was not intended. I couldn't build a successful roof shape to cut out windows on the front it jsut woudln't work liek it did for the rest of the building. a bug or me. SO I decided I'll leave a complete glass wall/roof for the sake of being able to view it even more clearly. The original idea was roofing with two smaller cut out windows and a full glass covering for the stairwell which makes this a very light bright house for one so small, each room has the potential for 3 windows on 3 speparate walls and also sound proffing between rooms on the left or right side is solved by the stair cavity.
As earthsip said there are no stud partitions (the exception would be the bathroom but not a big job so could easily be made to feel solid with the right materials)
My intention was to achieve the following when faced with a Small foot print.
Lots of light +Maximize space
I think the key to acheving this was using the stairs as a means to create a central structural spine.
Giving more light, structural support, ability to span services (less cables & pipes!) and had water tank and eve have solar panels if necessary located along its axis.
What works in larger buildings and sky scrapers should work for smaller abodes.
With this layout you can play to the cows come home, offset the stairs. If we coudl get a basment in even better! This is just one very basic layout concept but I would very happily live in it as long as there was no planning compromises which would make it unfeasible and its not by any stretch of the imagination "out there"
, its merely an exercise in quality living in a small space.
Ground Floor:
Hall,
Bathroom
Bedroom,
Outer decking from kitchen.
1st Floor
Master Bedroom
Lounge/Sitting room
Balcony
Doors: sliding doors throughout.
So its not perfect but it was free and no one had to loose any sleep (except me as I pulled a late one fighting with sketch up the first night)
Enjoy!

_________________
Guerrilla Kaizen
Buckminster Fuller, "Politicians are always realistically maneuvering for the next election. They are obsolete as fundamental problem-solvers."


https://twitter.com/nomoneyupfront


Open Window designs concept house for a pin user w/small footprint -

> see sketches & pictures here <


Catbear

- "

I was comfortable with a couple of banks being married today, instead i wake up and find I'm married to the banks."

"The wRight Poster"