Lisa O'Carroll's Ireland business blog

Ireland will be 'Celtic Tiger' again - Wilbur Ross
The world's best-known turnaround financier Wilbur Ross says Ireland will be the first of the bailed-out economies to recover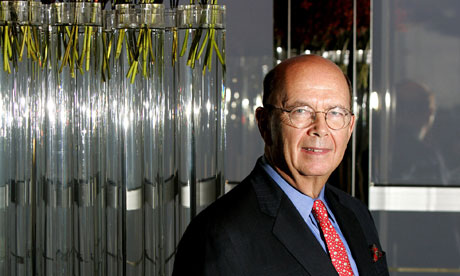 Wilbur Ross
Billionaire investor Wilbur Ross reckons Ireland will the first European nation to recover from the sovereign debt crisis and "will once again become the Celtic Tiger".
His buyout firm, WL Ross and Co, has already staked a claim on Ireland's future fortunes by taking equity in Bank of Ireland along with four other investors, helping it avert full nationalisation.
But his use of the phrase Celtic Tiger may rankle with many who think the moniker symbolises an economy out of control.
Still, he's pretty confident.
"We like Ireland very much because, unlike the Club Med countries, it doesn't need structural reform of the economy," Ross said in an interview with CNBC.
"All it really needs is to get through the financial crisis that was caused when its banks went berserk. But Ireland's fundamentals are still there."
Ireland will once again become the Celtic Tiger."