The Knight Frank 2012 Agri Land Report
Quote:
The total number of farms advertised was 391, out of which there were a total of 161 sales completed. The survey is based on 142 of these, as prices for 19 sales were undisclosed and therefore could not be included. Over the entire country, approximately 9,400 acres changed hands during 2011.
41% of sales completed.
The 2011 Report
Quote:
There were a total of 401 farms advertised, of which 129 sales completed, however 113 have been used in the survey as 16 sale prices were undisclosed.
32% completed.
A reasonable pick up in demand, but there are some interesting inconsistencies when you look closer at the data. Very small sample sizes, lots of noise, but definitely a pick up of sorts.
The usual line that is trotted out about commodity prices driving land prices should result in higher prices for the best arable land, and on the face of it that seems to be the case. The headline increase for Agricultural land prices in the South east is up a whopping 33%!
But look closer at the chart below.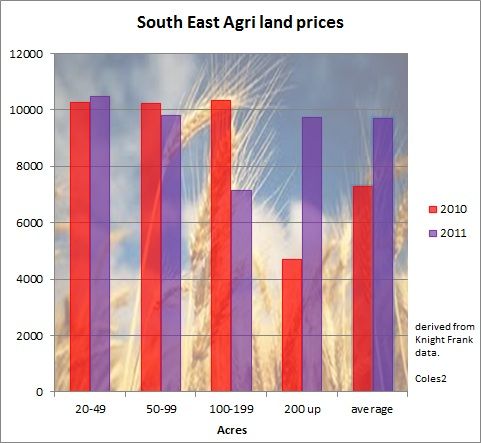 When you exclude the distortion caused by the 2010 sale of a massive single 1220-acre block of 'Slobland' in Co. Wexford, the average price of land in the South East actually fell. More on this later.