HouseBuyer wrote:
jmc wrote:
Watching yesterdays freak show reminded me of the antics of that other
LA coke head fraudster
, Barry Minkow.
Close.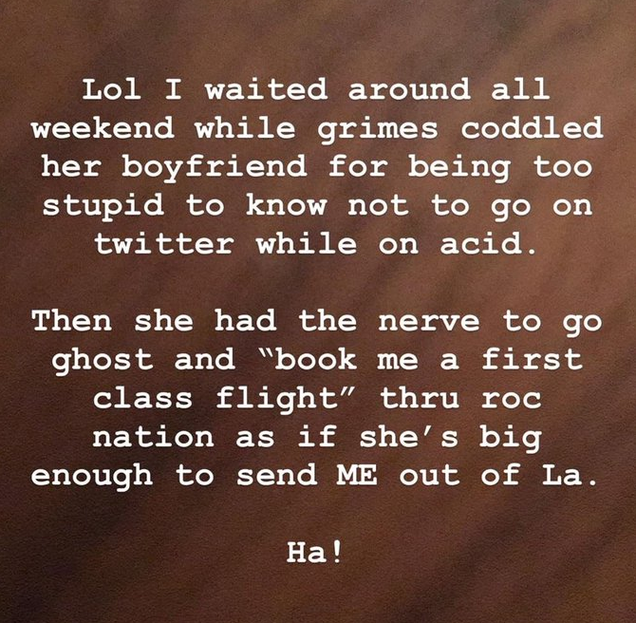 But you missed the best bits..
http://gossiponthis.com/2018/08/13/azealia-banks-elon-musks-house-get-out-grimes-collab/
Quote:
"LOL, Elon Musk is better off hiring an escort. At least an escort would have kept her mouth shut about his business. He's got some dirty-sneaker-inbred-out of the words Pabst beer p***y methhead-junkie running around town telling EVERYONE EVERYTHING ABOUT HIM. All because he needed a date to the Met Gala to hide his shrinking d**k from Amber Heard LOL.

"A f***ing rebound. A beta male who took steroids and got hair plugs to convince himself he was alpha. There's no reason, that in this collab with Grimes, I know so much about 'Elon Musk' … Grimes is really an idiot.

"And Elon Musk is really a part of the problem. When you talk about white male privilege and colonialism… His family's wealth is rooted in emerald and ore mines in southern African during apartheid.

"This trash a** beta male pig was given his start in life because his disgusting racist parents took advantage of thousands of black people…..

"Ask Elon Musk what the f*** he does for Africa? Nothing, he ignores it. These fake a** libertarian sh** bags.

"And hes ugly. The thin grey lips. The froggy eyelids. Un-uniformed hair growth pattern. Pork skin. He's own the Down syndrome spectrum. FOR SURE

"There's something not quite right about that man. I wouldn't give the credit of calling him an alien. He's a mutant. His humanoid group emerged/crawled out of the Caucasus cave system 15,000 years after the first Caucasian homo-sapiens did. He's really a caveman."
Now remember this is Azalia Banks talking. Which according to the word around town at the moment is one of the biggest nastiest clusterfucks in a town full of walking / talking nasty clusterfucks.
Its going to be one hell of a movie when its eventually made. The Elon Musk Story - from Pretoria to the Penitentiary - The Whole Sorry Tale.
PS.
For those not familiar with Ms Banks oeuvre this was her only good track. Her first.
The classic one hit wonder..